Welcome
Speaking Requests by Pastor Andy Combs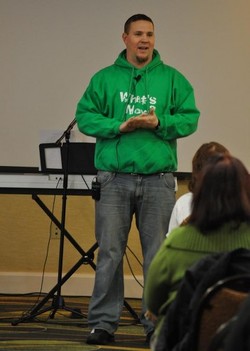 Invite Pastor Andy Combs to Speak at Your Event!
Pastor Andy's Story
To be honest, I don't even know where to start! I have heard from God and let him down so many times, but He has always pursued me, and never failed me. I said the sinners prayer at age 4 and asked Christ to save me. I had little understanding of it, and probably even less motivation. I was a Jr. Counselor when I was 13 and a man spoke on not just receiving the gift, but opening it. I did that night, and was called to preach. I strayed as much as I could from God through middle school and high school. And I say as much as I could, because I grew up in a Christian family, went to a Christian School, with a dad who was the youth pastor. I gained a whole lot of "Religion" during those years. Rules and expectations were all over my life. For the most part I submitted to these guidelines, but without any real passion for God and no true relationship with Him. I am not faulting those Christian standards that were placed in my life, In fact today I embrace them, but What I am saying is, " I learned how to be fake," and I was very good at it! It wasn't until Sept of 2000 that I was part of something special. Through a revival that started within the Bible classes I was teaching, I FELL IN LOVE WITH GOD! I do not know exactly when He saved me, but I know through this experience I had trusted that He did! I have been in love with Him since and I know He has great plans for me in ministry! God has allowed me to talk to different Christian schools, be a part of FCA in the Public schools, run all nighters, concerts, and events for thousands of youth! I have been asked to speak in Father Daughter banquets, men's ministries, and in many different churches. I am currently the Sr. Pastor at What's NEW Worship where I have been given the great responsibility to deliver the gospel every week! People are falling in love with God through Jesus. They are being Saved, Baptized and discipled to go back out into the world to speak the gospel to everyone! God is truly blessing what we are doing, and I cannot wait to see what happens in the future!
Pastor Andy is available to speak at your event Monday through Saturday. He has experience in speaking at different churches, prayer meetings, Christian schools, FCA in the public schools, all-nighters, concerts, and youth events.
To schedule him for your event,
please email:
andycombs23@hotmail.com
Topics & Availability
References
Pastor Andy was a very personable and strong speaker when he came to Fresta Valley. He was able to relate to all of us and invoke much tears and laughter within the same sermon. He is a very effective and kind preacher and a fair referee at basketball games.
~ Christian Dudley, Fresta Valley Christian School
My name is Kenlyn Snow and I attended United Christian Academy in Stanardsville, Virginia. Mr. Combs spoke at my school for chapel a few different times while I was in high school. He was a fantastic speaker! His passion for Christ was so evident and impacting on our student body. His sermons hit right at home for us as students, and they really inspired us to reevaluate our lives. There are honestly very few speakers that I remember by name who spoke to us during chapel but Mr. Combs is certainly one of the few who I will always remember. I would highly recommend him to not only speak to high school students but to anyone who is needing encouragement or advice. His passion for Christ was poured out to us every time he shared his heart with the students.
~ Sincerely, Kenlyn Snow
---